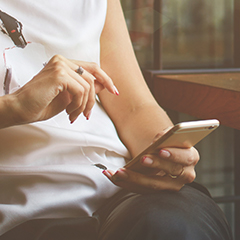 Share Draft Account
Our Share Draft Account provides the checking essentials — without a monthly maintenance fee or minimum deposit to open. You'll have access to our easy and convenient digital banking tools, plus a free debit card. Best of all, by keeping a daily minimum over $600 in the account you can begin earning quarterly dividends.*
Summary

Free checking
Earns dividends when minimum daily balance exceeds $600.00*
Enjoy unlimited checking
No minimum balance required
No monthly service charge
Free Virtual Branch and Bill Pay.
Free mobile banking
Free debit card
Free E-Statement
Free online check imaging
Access to surcharge-free ATM network
No minimum opening deposit required

Earning Dividends

Accountholders who meet terms and conditions, (including the minimum balance requirement), may earn dividends quarterly. Dividend and annual percentage yield rates may change every dividend period and are calculated on a daily balance method. More information can be found in disclosures below, or by contacting one of our friendly representatives by using the "Questions" link above.
Share Draft Account:
Dividend Rate Information: The dividend rate and annual percentage yield may change every dividend period as determined by the Credit Union board of directors.
Dividend Period: For this account type, the dividend period is quarterly, for example the beginning date of the first dividend period of the calendar year is January 1 through March 31. All other dividend periods follow this same pattern of dates. The dividend declaration date is the last day of the dividend period, and for the example above is March 31. If you close your account prior to payment of a dividend, you will not receive any accrued dividend.
Daily Balance Computation Method: Dividends are calculated by the daily balance method that applies a daily periodic rate to the balance in the account each day.
Minimum Balance Requirements for all DPCU Share Draft and Nontruncated Share Draft Accounts
You must maintain a minimum daily balance of $600.01 in this account to obtain the disclosed annual percentage yield.
Transaction Limitations: No transaction limitations apply to this account unless otherwise stated.