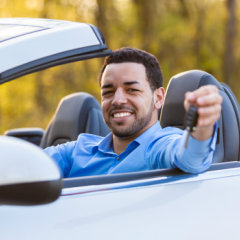 Auto Loan
Don't put off getting into a new car or truck another second. Whether you need to replace your lemon or you want something shiny to zip around in, our expert auto lenders are here to help. Enjoy competitive rates and affordable payment plans.
Summary

Financing for new or used cars and trucks
RV loans also available
Competitive rates
Flexible terms
Affordable payment plans
Pre-approvals available
Refinancing available
Extra benefits:
GAP Plus insurance
Route 66 Warranty Coverage
Experienced lenders
Local decision-making and processing
Personalized, friendly service

GAP Plus

Guaranteed Asset Protection helps ease your financial burden by paying the potentially high-cost difference between your insurance settlement and your loan balance on items directly related to the purchase of your vehicle, plus it includes $1,000 toward your down payment on a replacement vehicle when financed by your credit union within 60 days after your primary insurance company issues a settlement check.

Route 66 Warranty Coverage

Route 66 Extended Warranty has a complete line of coverage designed to keep your vehicle on the road. Even the most reliable vehicle can develop a mechanical problem. No matter where you travel in the United States, Route 66 will protect you against major mechanical expenses, and there is no deductible on covered parts and labor. All plans come with 24/7 emergency road-side service.

Contact us today for a quote!