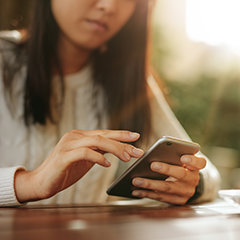 Mobile Services
Now you can conduct your banking from your smartphone or mobile device! It's easy to check account balances, see recent transactions, and more. You can also find the nearest Dakota Plains CU branch or ATM for your convenience. Use your mobile browser or download the app today.
Download the free app now for maximum convenience on the go!
Summary

Free, on-the-go services with your mobile phone or device*
Must be enrolled in our Virtual Branch online services
Do your banking from just about anywhere:
Check account balances
Review transactions
Make loan payments
Transfer funds between accounts
Pay bills
Encrypted software to keep your information secure
Save time with fewer trips to the branch

Getting Started With the Mobile App:

1. Download the TouchBanking app from the Apple Store or Google Play: click the appropriate link above or search the store for "TouchBanking."

2. Launch the app — then enter "mydpcumobile" as your FI app code.

3. Enter your own virtual banch login ID

(Note: minimum length is 6 characters — if your ID is shorter than 6 characters, add zeros to the beginning to reach 6 characters).

4. Answer the challenge question if presented with one.

5. Enter your virtual branch security code.

Then you'll be taken to the main menu — and you're all set!
Wireless carrier data rates may apply.